Every Ghanaian needs a Ghana Card to be able to register a SIM card in Ghana.
So far, only persons aged 15 and above are those eligible for the Ghana Card, which means anyone below the age of 15 who currently owns a SIM card will lose it once they fail to register with their Ghana Cards by Sunday, July 31.
According to data contained in the 2021 Population and Housing Census, there are 19.9 million Ghanaians are 15 years and older.
Out of this, only 15.7 million of them have been able to obtain their Ghana Card per the information given by the Finance Minister during the presentation of the 2022 mid-year budget review.
Of the 19.9 million, just 12 million, according to the Minister of Communications and Digitisation, have been able to fully register their SIM cards.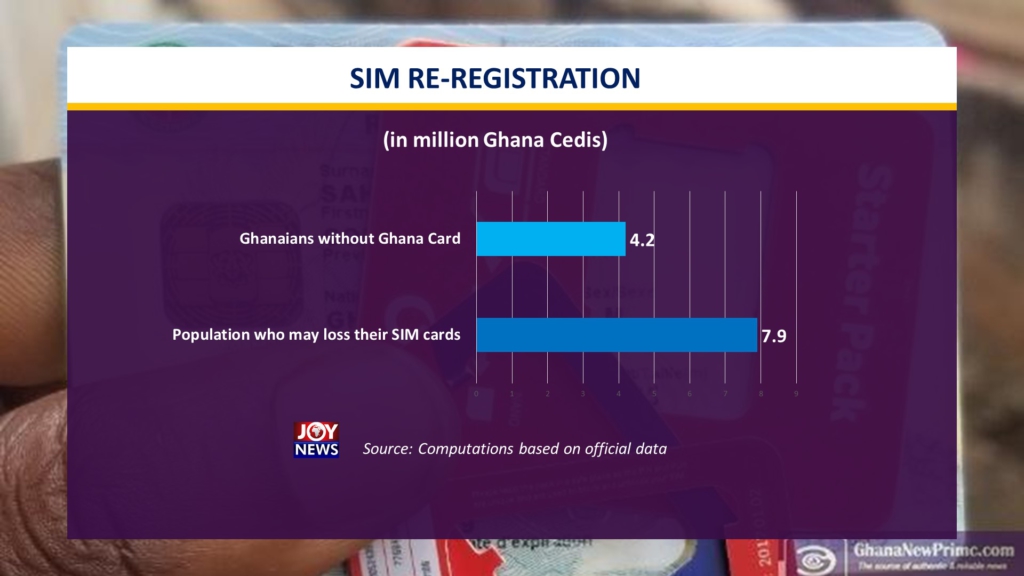 Per the parameters given:
4.2 million Ghanaians aged 15 and above do not have a Ghana Card.
7.9 million Ghanaians aged 15 and above have not been able to fully register their SIM cards.
Holding other things constant, by Sunday, we may have about 7.9 million Ghanaians losing their SIM cards if they fail to fully register with their Ghana Card.
SIM card registration exercise
Already, there are calls on the government and the Communications Ministry to extend the deadline of the SIM card re-registration exercise expected to end on Sunday, July 31.
The Minority in Parliament has urged President Akufo-Addo to instruct the Sector Minister, Ursula Owusu-Ekuful, to postpone the deadline for yet another time.
Addressing the press in Parliament on Thursday, Deputy Ranking Member on the Communications Committee, Sam George, explained that the deadline slated for July 31 "holds potential national security implications for millions of Ghanaians who have not been able to register, due to no fault of theirs."
"We urge the President and the National Security Minister to take cognizance of the fact that millions of Ghanaians earn a living by use of their SIM cards on a daily basis," he added.
According to the group, they resorted to calling on the President because engagements with the Communication Minister did not produce the desired outcome.
The Mobile Money Agents Association of Ghana (MMAAG) has equally pleaded with the government and the Ministry to consider an extension of the exercise to January 2023.