Tom Ricketts has vowed to keep pushing ahead with his bid to buy Chelsea, promising to continue his attempts to win over supporters.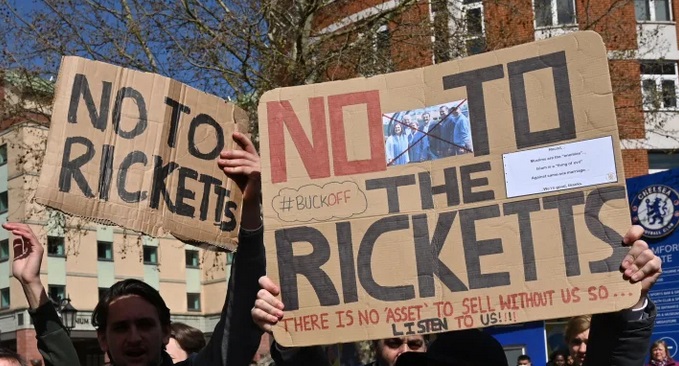 The '#NoToRicketts' movement spread from Twitter into the real world on Saturday as a number of fans gathered outside Stamford Bridge to voice their frustrations towards Joe Ricketts, who was found to have used Islamophobic language in emails sent between 2009 and 2013.
Chants of 'f**k off the Ricketts, you're not wanted here' could be heard ahead of the visit of Brentford, with Tom soon releasing a statement.
"Over the past fortnight, our bid team has met with several supporter groups to explain our vision for Chelsea Football Club," it read. "In those meetings, and by letter to all groups, we have shared a set of specific commitment we will make to fans, if our bid is successful.
"We believe these are far-reaching and certainly include an absolute commitment on the part of the Ricketts Family and the bid team to put diversity and inclusion at the heart of the club.
"We look forward to more meetings – including with the Chelsea Supporters' Trust – over the coming days and to making a public reiteration of our values and commitments."
The CST had earlier released their own statement stressing their opposition to the Ricketts'.
"At present, it is clear that our membership neither supports nor has confidence in the Ricketts family's bid for the club," the CST said. "This is reflective of wider concerns articulated by large, vocal sections of Chelsea's supporter base.
"The CST Board is guided by our membership, and thus we do not currently believe it is in the best interests of our members for the Ricketts family's bid to succeed.
"We await further public detail from the Ricketts family on concrete steps they will take to address the well-documented concerns of Chelsea supporters.
"Should the Ricketts publicly set out clear and detailed plans on how they will address support concerns, we may survey our members again in the next week."