Obaa Yaa, the wife of gospel artist Brother Sammy, has rejected claims that she returned beverages the musician carried to her family in order to court her hand in marriage.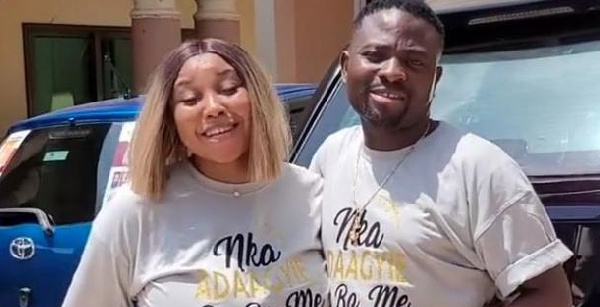 Their marriage, she claims, has not been annulled, as has been widely reported in the media.
A lady who identified herself as Obaa Yaa's close friend claimed the pair was divorced in a TikTok video a few weeks ago.
She made the claim just days after Bro Sammy revealed that his wife had accused him of occultism and infidelity, and that they had stopped having sexual encounters.
Sammy allegedly lied about events in his marriage, according to the woman, and his wife has left the marriage.
"Brother Sammy told a falsehood. His wife has filed for divorce. She returned his beverages to him. He is pleading with her, but she has stated that she would not welcome him back. Brother Sammy lied, he didn't tell it like it was… "Obaa Yaa has made it clear that she does not want him back," the woman claimed.
In an interview with Kofi TV, however, Obaa Yaa refuted the claim. She stated that she had no intention of divorcing her husband.
"I was taken aback when I found out I was divorced. I don't have many acquaintances, so I was taken aback when I overheard my putative friend discussing the divorce. She is not a buddy of mine. They said I returned my husband's drink to the family, which surprised me. This has taught me something."
Mrs Perpetual Opoku, also known as Obaa Yaa, claimed that she was duped by her husband's house boy, but that she had never considered divorce.
She said the house boy, Solomon, lied about her husband's infidelity when she was in a Ghanaian hospital.