The implementation of the Electronic Transaction Levy (E-levy) commences today, May 1, as announced by the Ghana Revenue Authority (GRA).
This means a rate of 1.5% will be imposed on all electronic transactions above GH¢100.00 starting Sunday.
Already, some Ghanaians have put the system to a test and have shared their experiences on Twitter.
According to some users, they engaged in transactions above the GH¢100 threshold, but did not experience the effect of the levy.
My #elevy experience recounted:

Two transactions on 1st May 2022 on expressPay. First was at 12:05am the amount was Ghs700. I was only deducted the platform fee of Ghs7. The second was 12:12am with amount Ghs500, also platform fee of Ghs5. These experiments suggest no #elevy ✅

— Dr. Kobby Mensah (@thePOE_T) May 1, 2022
E-levy is here
Just this morning
Tax 12gh
Mtn charge 6.75gh
Eeii Npp#elevy #MayDay #npp #Ghana pic.twitter.com/iUOaP06SjL

— 10/6/22 BTS💜 (@sidechick_22) May 1, 2022
I just sent 300GH to my girlfriend but they did not charge me the #elevy fee. Are we sure the #elevy dey start today?

|MayDay|

— Akwesi Merit (@AkwesiMerit) May 1, 2022
Ayoo, happy #elevy day. We die finish pic.twitter.com/ln9ML0e3cj

— #WoPre aa wob3ti (@madibaoctopus3) May 1, 2022
I thought E-Levy was charged on transfers in excess of GHC100 but why this?? #elevy pic.twitter.com/Dj2xlimLSo

— Bekwai Mayor (@korbienah) May 1, 2022
Was transferring GHS 5.00 from my mtn momo to vodafone cash which I'm always deducted GHS 0.50. I did same transaction this morning and I was charged GH 1.25 . Isn't it above GHS 100.00 anymore? Eiiiii @MTNGhana @VodafoneGhana .. #elevy #Sarkodie #doggy #dubai #daybreakhitz pic.twitter.com/FHG2vMJCqD

— nana ama- (@PBurnagyal) May 1, 2022
An amount of GH¢450 was used to test the system.
Service Charge
Before the inception of e-levy, the service charge for sending GH¢450 was GH¢4.50. But this time around, the sender was charged GH¢3.38.
This translates into a reduction in the rate from 1% to 0.75% as agreed by the Telecos earlier.
E-Levy
In addition to the service charge of GH¢3.38, it was realised that the sender was charged an extra amount of GH¢5.25, representing a rate of 1.50% not on the entire GH¢450 (transacted amount) but rather the value-added (GH¢350) using GH¢100 as the base line.
Total Charge
With a service charge of GH¢3.38 plus e-levy of GH¢5.25, it means, the sender was charged a gross amount of GH¢8.63 for sending an amount of GHC¢450.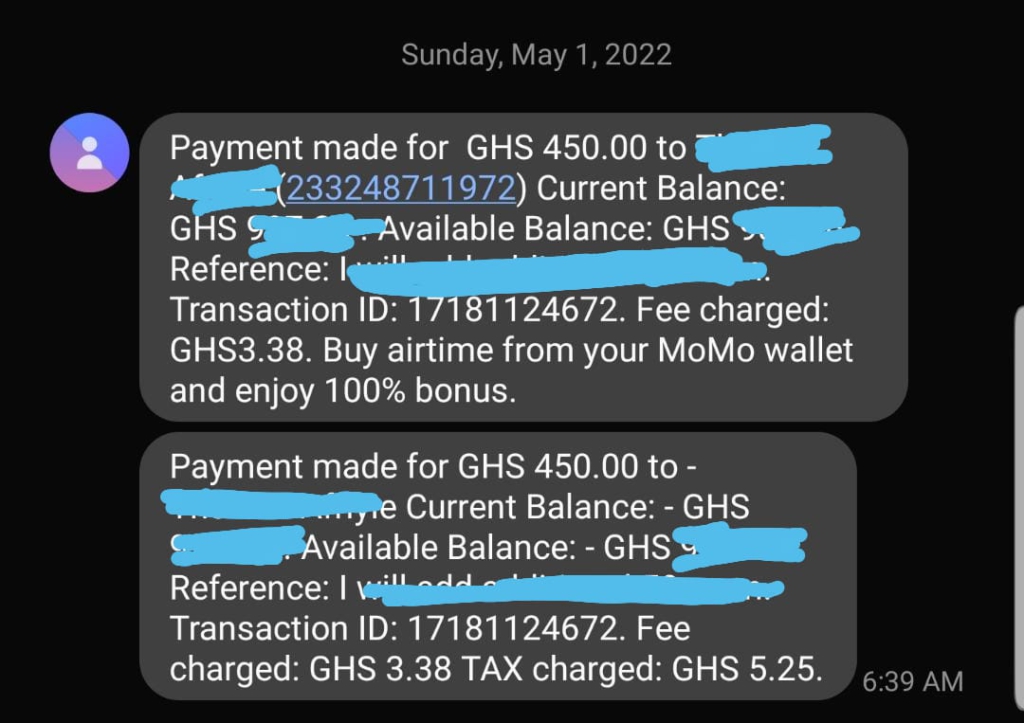 What you need to know about E-levy
Electronic transactions that will not come with a 1.5% tax rate.
A cumulative transfer of ¢100 made by the same person.
A transfer between accounts owned by the same person.
Transfers for the payment of taxes, fees and charges on the Ghana.gov platform
Electronic clearing of cheques
Specified merchant payments (that is, payments to commercial establishments registered with the GRA for income tax and VAT purposes)
Transfers between principal, master agent, and agent's accounts.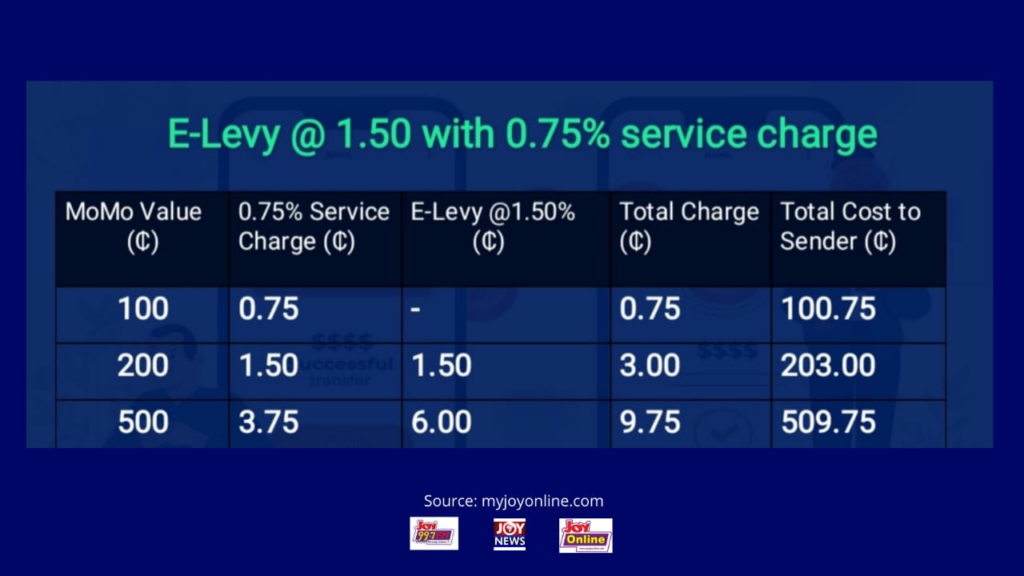 Transfers that will be affected include:
Mobile money transfers done between accounts on the same Electronic Money Issuer.
Mobile money transfer to a receiver on another Electronic Money Issuer [Interoperability transfer]
Transfer from a bank account to [another person's] mobile money account.
From a mobile money account to [another person's] bank account.
Bank transfers on an instant paid digital platform.